Live Lobster
ShopLobster delivers live Maine lobsters straight to your home, with overnight delivery options.
Choose from whole fresh lobster, frozen lobster tails, and lobster claw and knuckle meat.
Buy Live Lobsters Online
ShopLobster works directly with lobster harvesters. That means we can ship the freshest lobsters from the dock to your home in the fastest possible time.
Our lobsters are guaranteed to be delivered alive.
Choose from 1.25-pound, 1.5-pound, and 2-pound live lobsters.
We also sell frozen lobster tails and claw and knuckle meat, shipped to you overnight.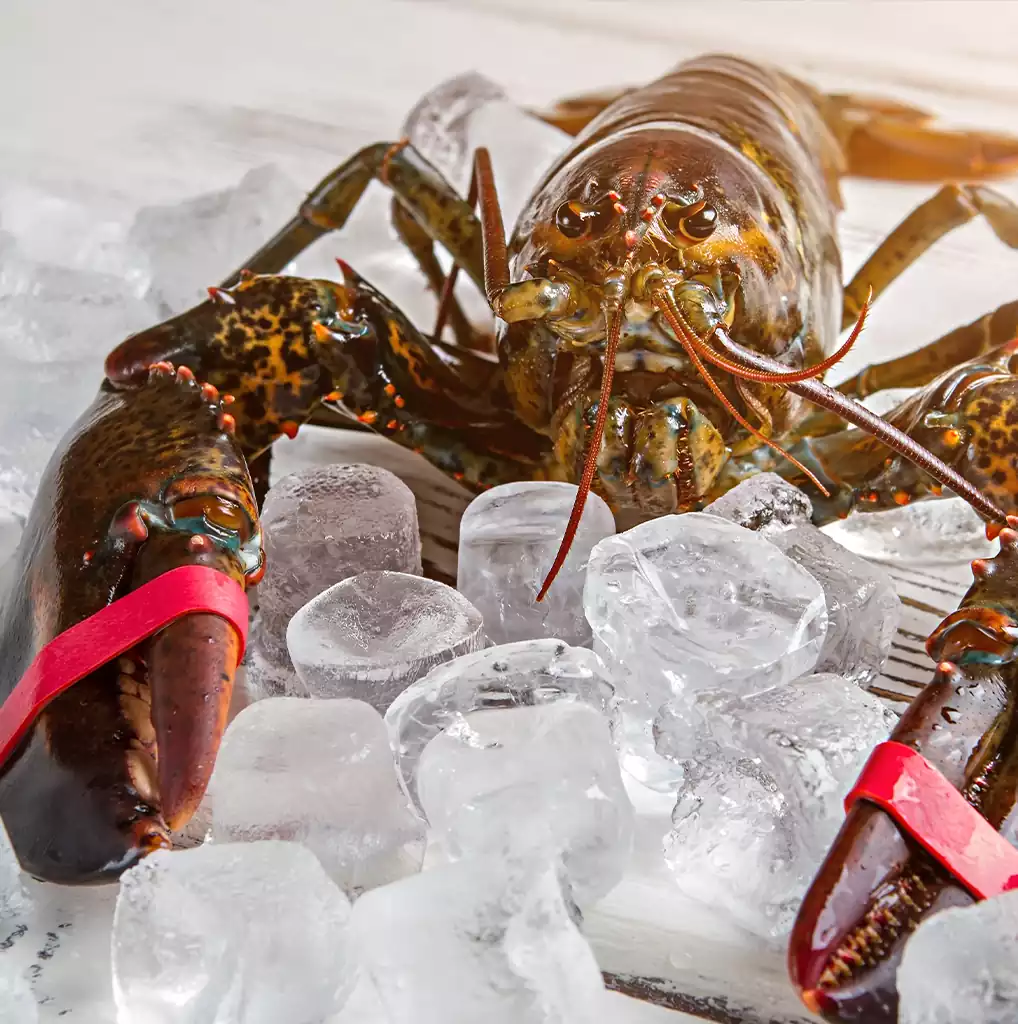 Sustainable and Ethical Sourced Lobsters
All lobsters are sustainably harvested in Maine. This means that breeding female lobsters are never harvested.
All of our lobsters meet minimum and maximum legal size requirements. This is a feature that's unique to the Maine fishery, large lobsters are never harvested. This assures that the lobster fishery continues to thrive. These sustainable practices help maintain a healthy population of lobsters.
Buying fresh Maine lobsters from ShopLobster means that your purchase encourages sustainable practices.
Fished In The Wild Seas Of Maine
Our lobsters are 100% natural wild-caught from the oceans off the coast of Maine.
Online Live Lobsters versus Supermarket Lobsters
Lobsters purchased from the supermarket are generally between 5-14 days old. Some supermarket lobsters have not been in the ocean for weeks.
The longer a lobster sits in an unnatural environment the less fresh it is.
Buying live lobster from the supermarket offers the illusion of freshness, but the reality is otherwise.
Lobsters available online from ShopLobster are fresher than supermarket lobsters. This results in the best-tasting lobsters. It's one of the advantages of buying online instead of at the supermarket.
Many supermarkets install lobster tanks to buy in bulk and drive down the price of suppliers.
Supermarkets will also receive Grade B lobsters to cut costs. Known in the industry as B-liners, these lobsters are cheap, and it shows.
Grade B lobsters still taste like lobster, but they're not as good as Grade A lobsters, hence their grade.
Buying online from ShopLobster assures that you'll always receive the freshest Grade A lobster available.
Buying lobster from a supermarket, you have no idea where the lobster came from, and it's not uncommon for seafood to be mislabeled. So even if it says the lobster is sourced from Maine, there is no assurance.
At ShopLobster we sell fresh live lobsters straight from Maine, guaranteed. Our lobsters are sustainably harvested in partnership with local Maine lobstermen. This means we can ship the freshest wild lobster direct to consumers.
Fresh Lobsters
Buying lobsters online is more ethical than buying from a supermarket. The lobsters we sell are premium Grade A.
Our lobsters are so fresh it's almost like buying them straight from the dock.
Buy from ShopLobster for the freshest Maine lobster.