Some Delicious Ways to Prepare Lobster
Lobster is considered a delicacy throughout the country. Maine lobster, in particular, is highly sought-after for its sweet taste and high nutritional value. With its widespread popularity, it's no wonder folks have come up with a myriad of different ways to prepare live lobster. From smothering it in sauce and putting it in a roll, to simply boiling it and serving it still in its shell, there is no shortage of ways to serve this delicious crustation.
At ShopLobster, we offer some of the freshest, live Maine lobster, delivered directly to your door. When you purchase from ShopLobster you're choosing to work with a small, sustainable operation led by a 5th generation Maine lobsterman. By doing so, you're not only supporting the sustainable fishing industry in Maine, but also guaranteed an ethically sourced meal you can feel good about. Once the live lobster is delivered to your door, what you do with it and how you prepare it is entirely up to you! Below, explore some of the most popular and delicious options enjoyed throughout the United States.
The Classic Boil
One of the easiest and most popular ways to prepare live lobster is boiling it while still alive. Boiling for a minimum of 8 minutes for a 1 lb. lobster eliminates any risk of undercooked meat and allows for the flavor of the lobster to shine. A 1.25 lb. lobster should be boiled for 10 minutes. If you're lucky enough to have a 2 lb. lobster, boil it for 15 minutes. These times apply to multiple lobsters (no need to cook three lobsters for any longer than you would cook one).
If you want to confirm that your lobster is done, break off the tail. If the tail meat is white and firm, it's fully cooked! Any translucency indicates it's not done yet.
Once boiled, the lobster is traditionally served whole, still in its shell. The connoisseur then has the opportunity to crack the shell open, extract the meat, and garnish however they please. There is an art to extracting the meat from a lobster shell; if you don't know how to do this, please watch our short video: How to Eat a Lobster (like a pro) (coming soon!).
Typically, eating a lobster fresh from the shell involves a large quantity of melted butter and perhaps a seasoning blend of choice. Dip the meat in butter, sprinkle some seasoning and it's ready to enjoy. While definitely not the most elegant way to consume such a luxurious feast (lot's of joyful cracking, water dripping, and flying shells), it remains by far the most popular.
The Lobster Roll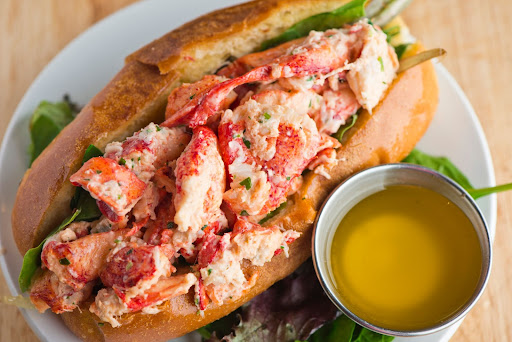 A close second in familiarity and popularity is the lobster roll. At its core, a lobster roll is shredded lobster claw and knuckle meat, simple toppings, and possibly a sauce, served on a roll of choice.
The realm of the lobster roll, however, is a bit more complicated than it initially appears. Due to differing regional tastes, which result in variations of preparation, there is a fierce debate as to who does it best.
There are two main camps when it comes to the lobster roll – the Maine lobster roll and the Connecticut lobster roll. The Maine lobster roll is served cold in a similar style to chicken or egg salad. Tossed in mayonnaise and herbs, this style of lobster roll is the most popular amongst the folks where ShopLobster sources our lobster: the beautiful coast of Maine.
Then, there's the Connecticut lobster roll. This roll derives its taste and style more closely from the traditional boil. Lobster meat is served warm, with a quick toss in some butter and spices, before being served on a toasted and buttered roll. This simple preparation allows the luscious, sweet taste of the lobster itself to truly come through.
No matter where you're from or which side of the debate you fall on, lobster rolls are widely enjoyed in styles limited only by the imagination. Since lobster is such a versatile meat, try experimenting with various seasonings, toppings, and bread types to build your dream lobster sandwich. And all you need to prepare your own delicious lobster roll is a pack or two of our Claws & Knuckles, along with some rolls and other ingredients you probably already have in your kitchen. For a detailed recipes, please visit our Recipe Page.
Grilling
When ordering lobster at a steakhouse or other restaurant where a more refined preparation and presentation is expected, lobster tails are often grilled or charbroiled. This method brings out the flavor of the meat while infusing it with that sought-after smokey or charred flavor. Whether served as part of a "surf 'n turf" meal consisting of lobster and a filet mignon or served alone, these lobster preparations can showcase the chef's skills.
While lobster is an incredibly versatile meat, this does not mean it is foolproof to prepare. Just like any other meat, it can be overcooked and become tough or chewy, which is highly undesirable. However, by following general guidelines and maintaining a close watch on the internal temperature of the lobster, finding the perfect cook can be relatively simple.
In this method of preparation, the lobster tail is butterflied, while the claws can be left intact and reserved for other dishes, like lobster rolls. Before grilling or broiling, the lobster tails will be brushed with olive oil and seasonings to flavor the meat, to ensure a nice sear is achieved. Once this process is complete, the lobster is typically served with a side of melted butter, the perennial lobster go-with. Need more detail on how to grill a lobster tail? Have a look at our Recipe Page. And don't forget that our Frozen Lobster Tails are ready to be seared on the grill. Packs are available to serve two on a date night, or the whole extended family for the holiday weekend.
The Best Lobster Preparation Method For You
At ShopLobster, we believe the best way to prepare live lobster that we ship directly to your door is the way you enjoy the most. Whether you're looking to have a classic lobster feast, a seafood boil, or are looking for the ultimate lobster roll to call your own, our fresh, sustainably caught, live Maine lobster is the way to go.
We make it easy and accessible to get the freshest lobster delivered directly to your door, all from the comfort of your home. At ShopLobster, you'll find all of the information and preferences you need to find your ideal lobster and even some tips on how to prepare it! So, no matter how you plan on serving your live Maine lobster, ShopLobster has you covered with the best lobster in the country; lobster you can feel good about choosing.
Leave your thought here
Your email address will not be published. Required fields are marked *