Sustainable
.

Fresh

.

Lobster for All

.
Order the best online Maine lobster from a company you can trust, and we'll deliver it overnight, fresh to your door.
Order Lobster Online With Ease
Personal.
We deliver fresh caught lobster straight to your door.
Approachable.
Whether you're a novice or an expert, we're here if you need us.
Sustainable.
Our fishermen adhere to Maine's strict fishing regulations. When ordering from ShopLobster you are supporting the preservation of the lobster population, and the men and women who make their living from the sea.
Download
Our App


and Enjoy Stress-Free
Online Ordering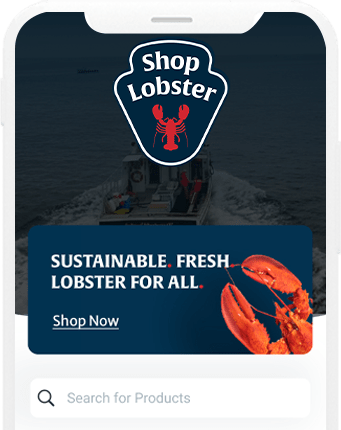 ShopLobster's founder is a 5th generation Maine Lobster fisherman. After more than 100 years, you can be sure the knowledge of lobster fishing is baked into our DNA. But don't worry, our lobster is fresh, and we guarantee that.
Sustainable practices unique to Maine.
We work with fishermen who care deeply about maintaining a robust lobster population. Maine's strict regulations allow for a healthy marine ecosystem, and pave the way for future generations of lobster fishermen.
We support Maine based companies with a commitment to sustainability. Our Partners offer sustainably-sourced products and reused, recycled and repurposed items made from fishing gear, rope and fisherman's bib overalls. Our Friends are advocates for the health and well-being of the hard working women and men who fish for a living in Maine.
ShopLobster delivered on time and placing the order was simple. When the lobster arrived it was fresh and tasted delicious. We highly recommend this company if your looking to buy lobsters online.
We found ShopLobster online as we were looking to buy fresh lobsters from a company that is part of an ethical, sustainable fishing program. ShopLobster over delivered and the lobsters we bought were delivered on time and tasted great!
We were looking for a lobster business that was involved in a sustainable fishing program that did not over fish areas like Maine. The company was great to deal with and the app we ordered from was simple to use.
What a company!! We were hosting a very important function and decided to serve lobster. We ordered last minute and their customer support made it happen. The lobster tasted great and our order arrived on time.
For ShopLobster specials and an inside look at Lobster Fishing in Maine, follow us on Instagram

@ShopLobster